We at VSMA have helped thousands of Australians secure and grow their financial future, and our testimonials prove this. No matter the goal, our network of experts work hard to continually grow your finances so you can enjoy things in life that matter most.
Level 8/10 Queens Rd, Melbourne, VIC 3004
1300 008 762
Visit our website at https://vsma.com.au/
Opening Hours (Monday: 09:00 am – 5:00)
License & Accreditation
VSMA Group Pty Ltd
ABN – 60 637 542 520
| | |
| --- | --- |
| Entity name: | VSMA GROUP PTY LTD |
| ABN status: | Active from 20 Nov 2019 |
| Entity type: | Australian Private Company |
| Goods & Services Tax (GST): | Registered from 20 Nov 2019 |
| Main business location: | VIC 3004 |
Tell Us About VSMA
VSMA has been invaluable in helping me plan my future financial security. The staff are fabulous and the on going support second to none. I just wish I had found them years ago! Reviews by Karen Waalwyk at Word of Mouth
Amazing experience with VSMA. From start to finish, the team at VSMA were professional, timely and adapted to our needs. Their communication was outstanding and the advice provided was excellent. Thank you VSMA for setting us up for financial success! Reviews by Melita Belec-Papa, Melbourne at Facebook
At VSMA, I get the opportunity to interact and work directly with clients and their customers. Virtual position, can work from home and some flexibility in schedule. Review from GlassDoor
VSMA, made it so easy to buy our investment property, infact so easy, we recommended them to our friends eho wanted to buy one, we highly recommend them, they make for a very smooth transaction. Thank you VSMA
Reviewed by Sue Harrington 13 Nov 2020 at Bark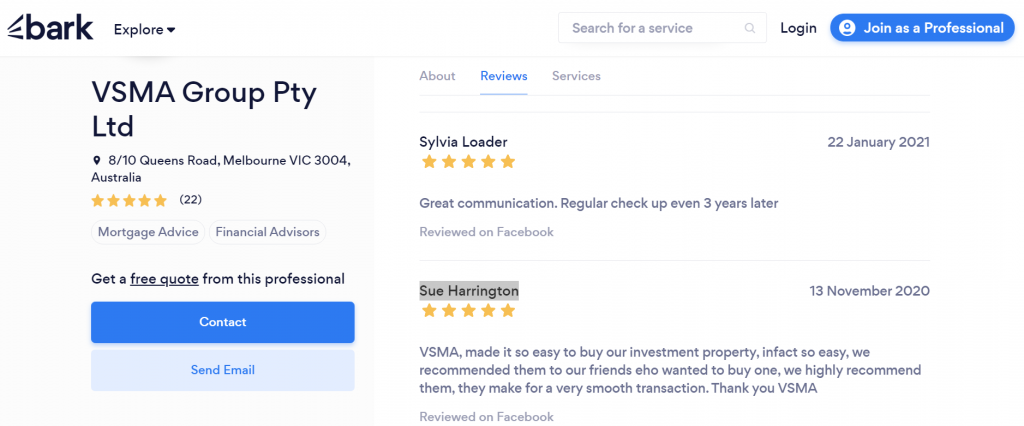 Online VSMA Reviews
If you've been buying services online for any amount of time, well, you're probably already familiar with product reviews, too. But just briefly recaping the definition, anyways. A review is product-centric content, which should explore both the pros and cons of specific products or services. In essence, it's an objective assessment of a product's strengths and weaknesses. In some ways, it's a kind of consumer journalism – but unlike traditional journalists, product reviewers don't merely report their findings; they give you information so you can decide whether a certain product is right for you.
There are many reasons why product reviews are valuable sources of information. For one, not all of the information you come up with will be accurate, because it's not the writer's job to research every product on the market. However, most of what you'll find will be close to reality, because virtually every product has its strengths and weaknesses. In other words, the writer is looking at both the pro and con of the product and then writes about those aspects. And, where writing about these things is a little too much for the average consumer to take in, the reviewer takes a reasonable approach by providing a balanced review.
Looking at positives and negatives in product reviews can help potential customers make better buying decisions, too. It can be hard to find the good reviews, because all the reviews are inevitably written by people who have a financial stake in the product being reviewed or are affiliated with the company whose name is being attached to the review. That said, the Internet makes it easier for anyone to locate unbiased customer reviews – not only because the Internet has more potential customers than the entire world, but because there are lots of sources for free product reviews out there. These reviews can provide potential customers with helpful information before they decide to buy a certain product.
Sam Chara
More Reviews of VSMA taken from https://nicelocal.com.au/melbourne/business/vsma/reviews/
VSMA service is fantastic. They always check up on you and see how things are going and do a review for you.
Also, the team are very friendly and knowledgeable.
Helped us reduce our debts and structure our finances so that we pay off our mortgage in 8 years rather than 24 years. These guys were a blessing in disguise. We are now onto the next stage in our financial journey with them and it has been incredible. Give them a try if you are anxious and nervous about finance as much as we were!
The team at VSMA provided a clear and concise process for us to move forward on creating an investment option. They located a great property in a great area for growth. Very happy to recommend this company for those looking towards setting themselves up for future prosperity.
From our initial consultation, to setting up our tailored our investment portfolio the process has been first class. Sound wealth knowledge across diverse sections of the market has made us extremely happy with putting our trust with VSMA.